Premium Economy Class
Due to the current situation, we are trying to reduce direct contact between passengers and crew. This has an effect on the way we manage our on-board catering. In order to keep contact as low as possible, we are offering an adapted catering service – making it our priority to maintain a balance between safety and service.
Thank you for your understanding.
Premium Economy Class is our travel class with extra comfort on long-haul flights. Enjoy numerous advantages such as an extra-wide seat with an increased tilt angle for a relaxing flight.

Extra comfortable seats
In our Premium Economy Class, you can expect a modern seat that you can adjust to your individual needs. You will enjoy a high level of comfort thanks to a wider seat area, foot supports and adjustable head support.
The slightly wider armrest with a foldable table can be perfectly converted into a mobile workspace thanks to the socket and USB connection. You can keep your personal items close at hand in the additional storage space.
Additional services
In addition to our extra comfortable seats, you can expect many additional facilities on our long-haul flights. So you can lean back relaxed and enjoy your time on board.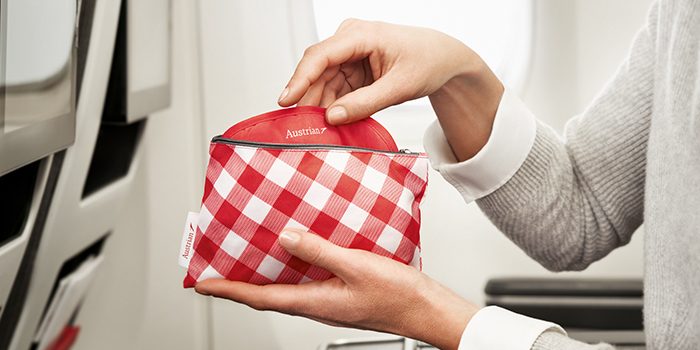 Luxurious extras
You don't have to restrict yourself with luggage thanks to our enhanced baggage allowances. You will receive a Premium Economy Class Amenity Kit on board with a sleep mask, toothbrush and other useful items for the flight. Our crew will also distribute hot towels to refresh you immediately after take-off.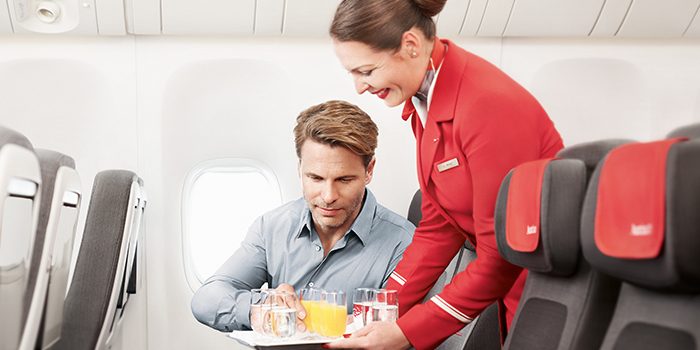 Culinary highlights
You will receive a welcome drink for refreshment after boarding. Once at flying altitude, our staff will served a three to four-course meal with a selection of three main courses. You will be served a breakfast or a snack depending on the time of day on landing. Of course, our diverse drinks offer with Austrian wines, beer, coffee, tea and spirits is also available throughout your flight. Every passenger also receives a bottle of water.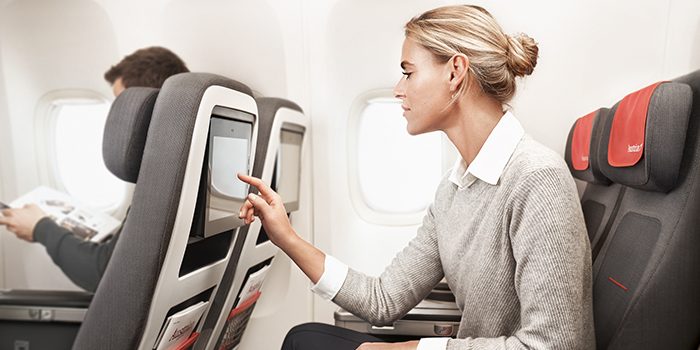 Exciting entertainment
Our entertainment programme on board consists of 350 hours of video and audio programming on a twelve-inch touchscreen that you can enjoy with our noise cancelling headphones. You can use the remote control for easier control.
Book your flight in Premium Economy Class now
Do you have any further questions? 
This might also interest you