Current information and flight disruptions
Before leaving for the airport, find out about current safety information and travel guidelines and get up-to-date flight information via text, email or in our Austrian App.
Coronavirus – current information
There are so many uncertainties about travelling in times of coronavirus and it raises many questions. Please inform yourself therefore about the entry regulations, flexible rebooking options and extensive hygiene measures.
We look forward to welcoming you back on board very soon!
We understand that you would like to have clarity about the processing status of your booked or cancelled flight as quickly as possible. Our Service Centre staff are doing their best to assist you quickly and will process all rebookings and refunds as quickly as possible. 
If you booked your flight via an (online) travel agency, please contact them for travel updates and rebookings. 
Please be patient if you have already contacted us and have not yet had a reply. We will definitely get back to you. However, sending several messages via various channels will slow down the processing of your request. 
Thank you for your understanding in this dynamic and challenging situation.
Country bans, entry regulations and travel warnings
Some countries have issued a travel warning for Austria or individual federal states and cities.
We ask all passengers to inform themselves about the individual country regulations via the website of the Austrian Ministry for European and International Affairs before commencing their journey.
Please also inform yourself whether different regulations apply in your country of travel (for example for German federal states).
A negative PCR test and/or quarantine may be required depending on the destination country and the regulations. A form asking for your accommodation details will be handed out on board the flights concerned.
In addition, flexible booking options are available for all passengers travelling with Austrian Airlines.
More current flight information
After Montenegro Airlines ceased operations, Austrian Airlines will increase its service between Vienna and Podgorica at short notice. Until mid-March, two additional connections per week will be operated.
Passengers who were booked under the codeshare agreement on connections with Austrian Airlines flight numbers during this period will be rebooked on these flights.
From mid-March, Austrian Airlines plans to operate three connections per week between Vienna and Podgorica.
After Austrian Airlines terminated the codeshare agreement with Montenegro Airlines as of Monday, 28 December 2020, tickets issued by Montenegro Airlines as of this date will also no longer be accepted. Tickets issued before this date can be used normally with Austrian Airlines respectively Lufthansa.
We keep you informed about the status of your flight
Austrian Airlines offers a free information service that keeps you informed in good time about changes to your flight. Regardless of which airport you fly from with Austrian Airlines, you will receive text or email updates about flight disruptions so that you can adjust your travel plans accordingly.
You can choose how we inform you about up-to-date flight changes:

At the time of booking your flight:
simply enter a current mobile phone number or email address during flight booking (no registration required)
About your profile:
Create an austrian.com profile and store your contact details there
In the Austrian App:
Download the Austrian App
| | | |
| --- | --- | --- |
| Event | Information channel | Time |
| Flight status | | Immediately |
| Gate change at Vienna Airport | | From two hours before departure |
| Delays of over 15 minutes | | Immediately |
| Cancellation | | Immediately |
1 A text is sent if there is no email address available.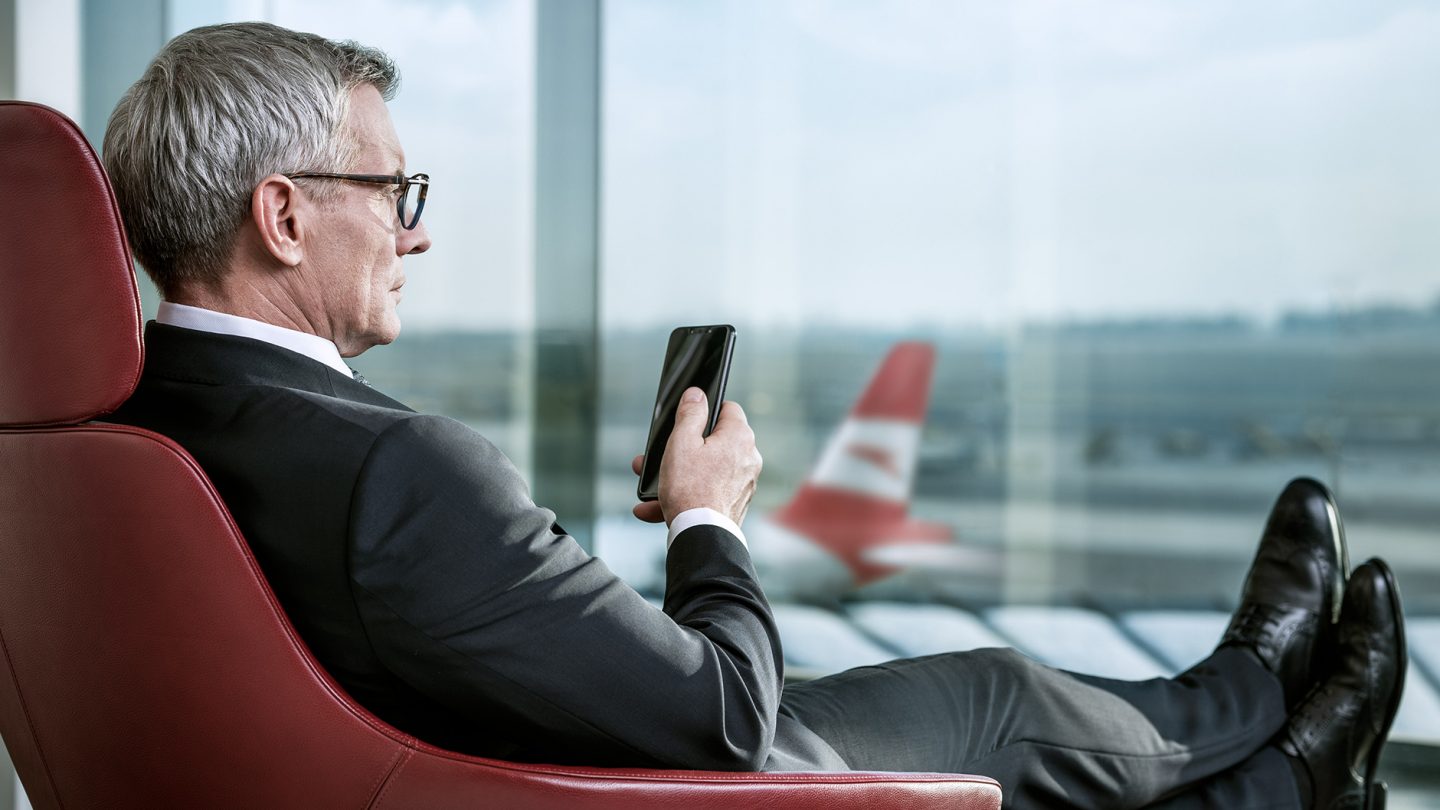 Simply check your flight status yourself
Unforeseen circumstances such as a delay, gate change or a flight cancellation can happen. Check your flight status and current flight information.
Do you have any further questions?
This might also interest you