Getting around airports
We want to ensure that you can easily find your way around the airport. It can be difficult to orient yourself, especially if you are flying for the first time. With a little preparation, you will soon feel like a frequent flyer.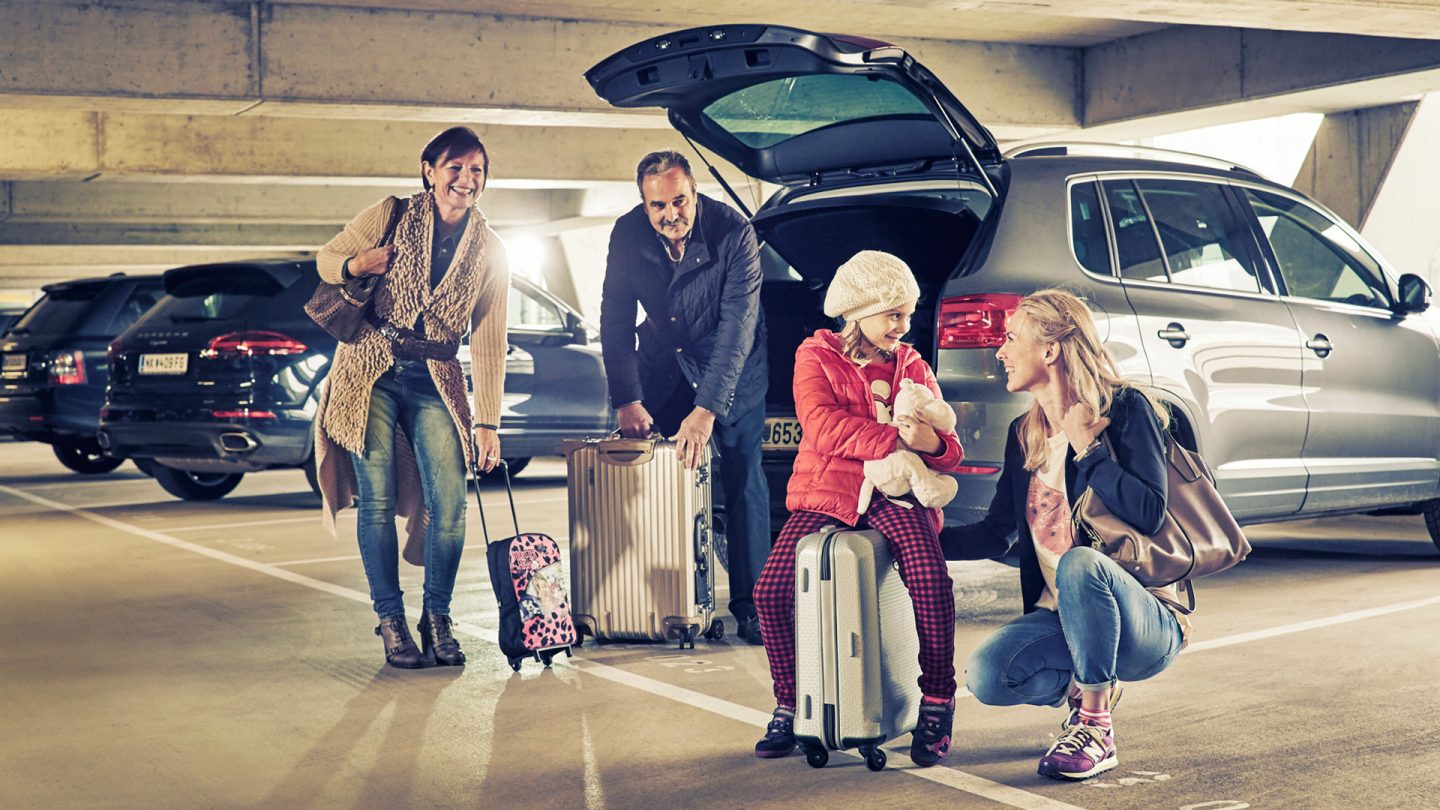 Getting to the airport
Allow plenty of time to get to the airport on the day of departure.
Even before you leave home, we recommend you put a tag or sticker on your bag. This can prevent confusion in the baggage claim area on arrival and makes it easier for you to identify your bag.
Ideally you should arrive at the airport two to three hours before departure. For flights within the EU or if you have already checked in online, 90 minutes are sufficient. Remember to plan a buffer for possible traffic jams or train delays on your journey to the airport.
Once you arrive at the airport, you will find that most large airports are divided into different terminals, which may be far away from one another. You should therefore find out in advance the location of your departure terminal.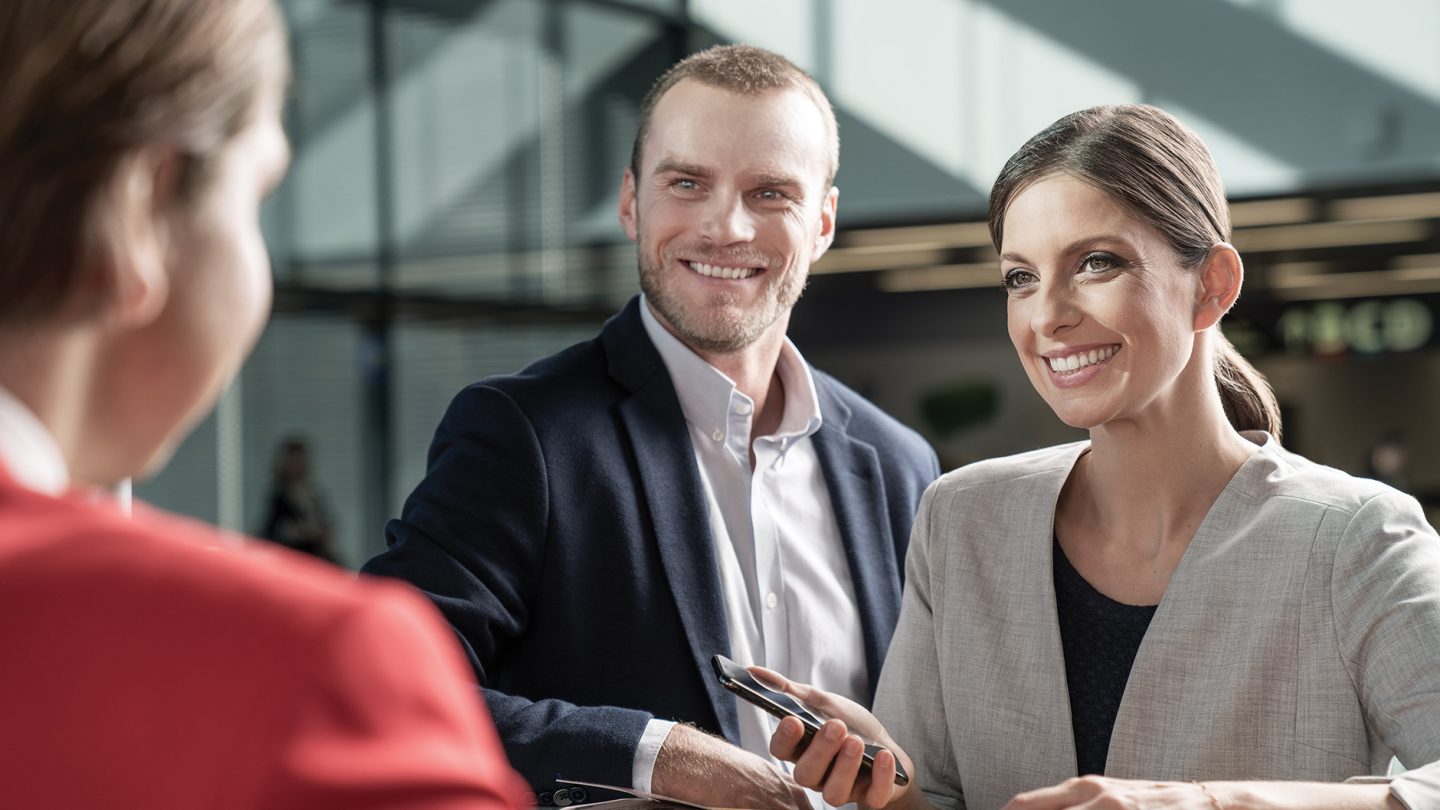 Check-in counters
The information boards in the departure hall display the flights for the next few hours. There you can see which counters you can use to check in and when they are open. The employees on the counter will help you check in your bags and print your boarding pass. To prevent problems during check-in, check your baggage allowance in advance. Then show your boarding pass when boarding the aircraft. Please keep your boarding pass and your ID always to hand on intercontinental routes for possible checks.
Hint: Save yourself the queues at the counter and check in at the automatic machines. The check-in deadlines vary depending on the airport.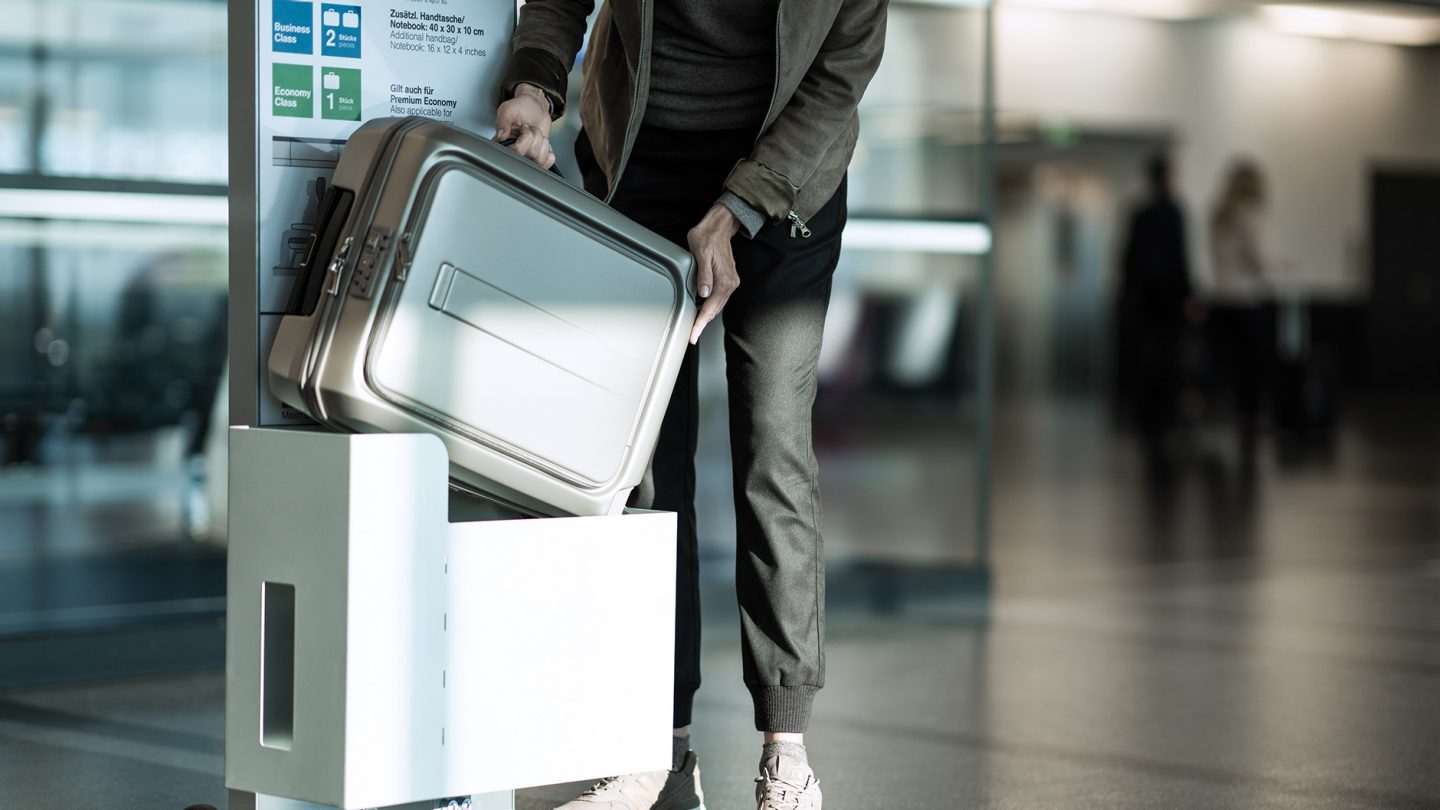 Security and passport controls
Before entering the gate and boarding the aircraft, you must pass through the security control. These controls are necessary to examine your carry-on baggage for dangerous objects and liquids. Please find out in advance what you are allowed to take in your carry-on baggage. For non-Schengen flights, passport control is also mandatory. Even if you are already at the airport, you should still go through the security control in good time, since the gate can be some distance away.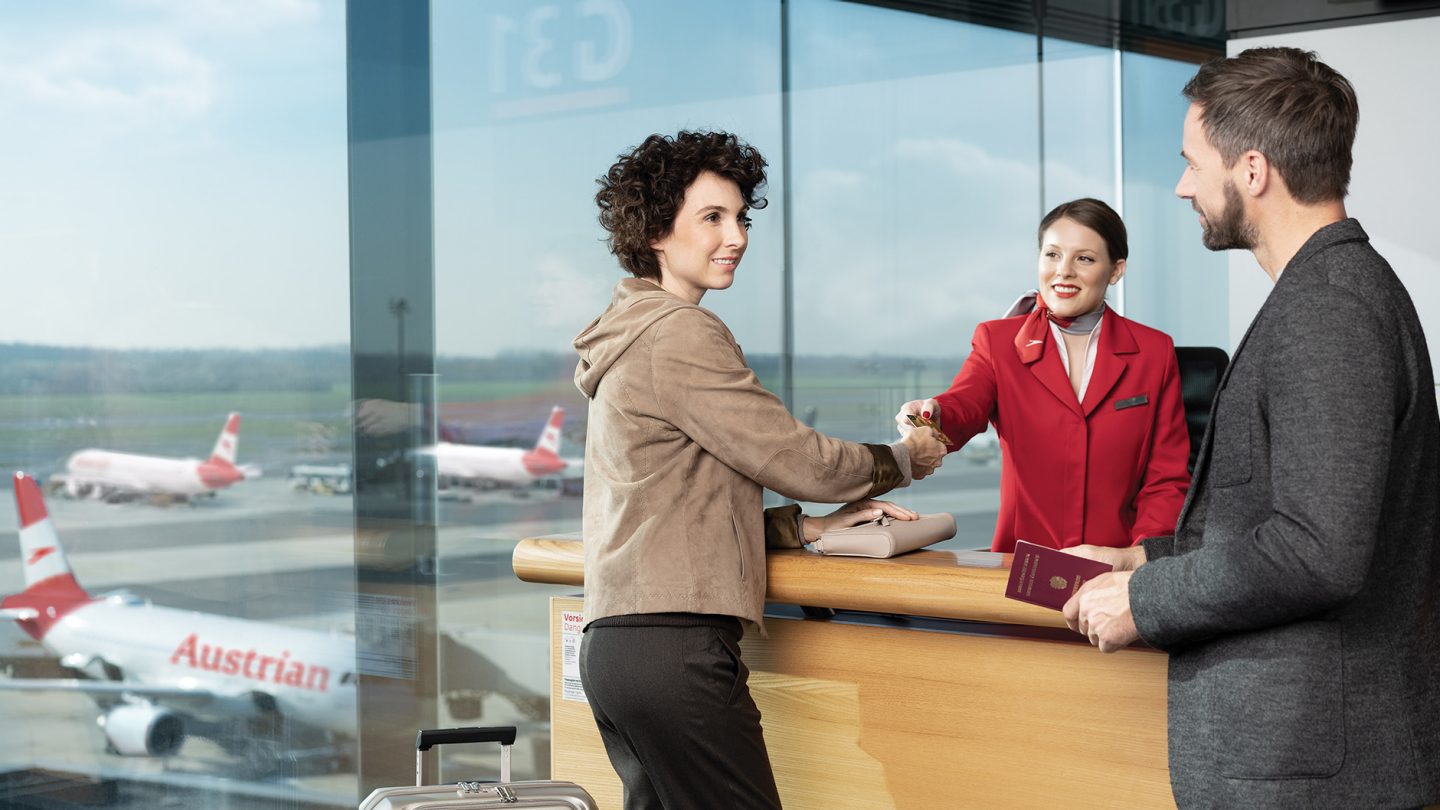 Gate
Your boarding pass and the ground staff at check-in counters can inform you about the gate, which is where passengers wait to board the aircraft. Nevertheless, you should regularly review the information boards, since gates sometimes change at short notice.
We recommend that you download the Austrian app, because your mobile boarding pass always shows the gate you must go to. By clicking on the update button, the information is revised and you are kept fully up to date.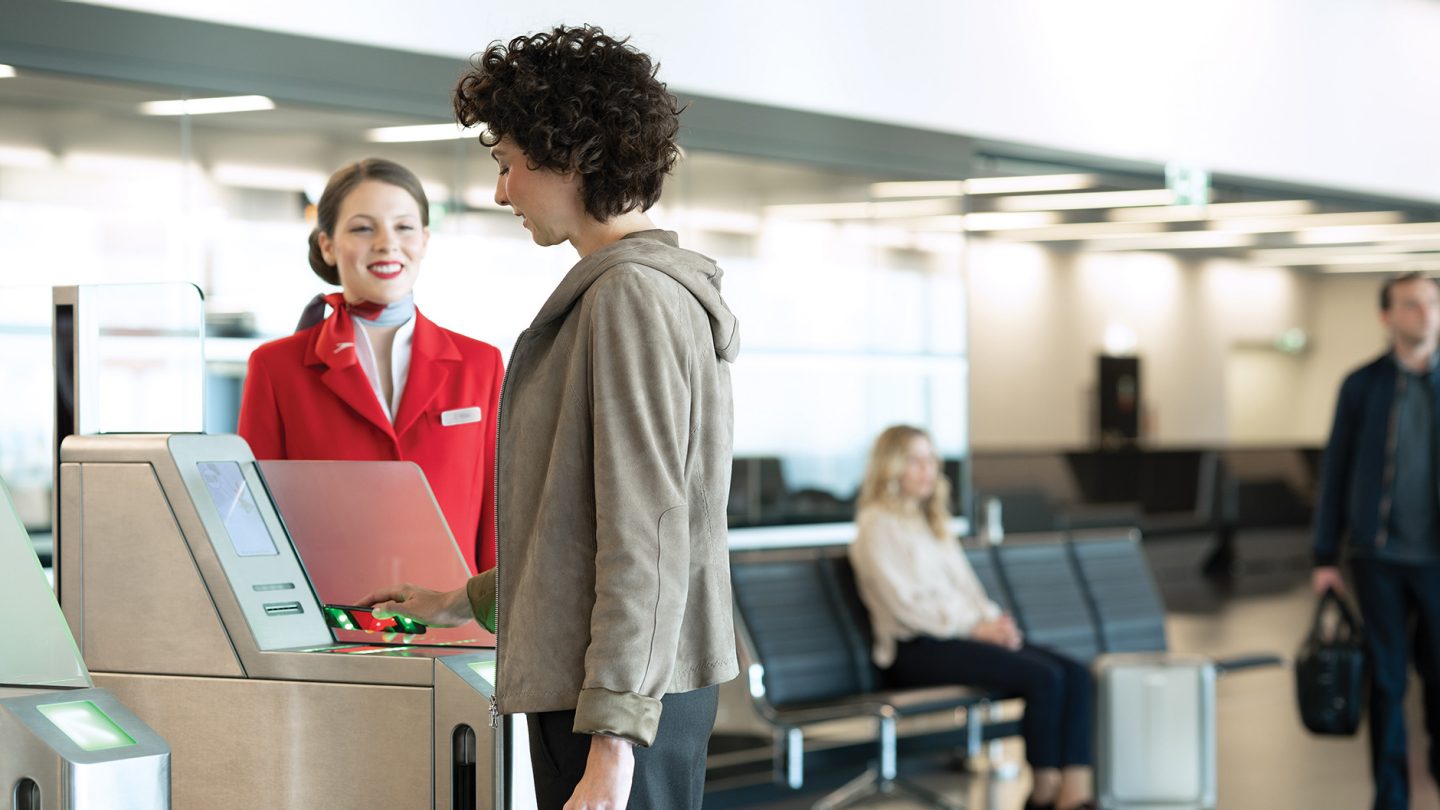 Boarding
For boarding the aircraft, passengers are called up by group. This procedure allows quick and convenient boarding for all passengers. At many airports, including Vienna Airport, "quick boarding gates" allow you to scan your boarding pass yourself during boarding.
Quick boarding
Place your boarding pass on the scanner with the barcode facing down. After a brief inspection, the barrier is released and you can pass through to the plane. If your seat has changed at the last minute, you will receive a new paper section at the quick-boarding device showing the new seat information.
Group Boarding
In order to ensure quick and comfortable boarding, we divide the boarding process into the following groups:
| | |
| --- | --- |
| Pre-boarding | Families with babies and small children under five years, unaccompanied minors and passengers with reduced mobility |
| Group 1 | HON Circle Members, Senators and Star Alliance Gold cardholders |
| Group 2 | Business Class passengers, Economy Flex passengers |
| Group 3 | Economy Class passengers with window seat and companions |
| Group 4 | Economy Class passengers with centre seats and companions |
| Group 5 | Economy Class passengers with an aisle seat |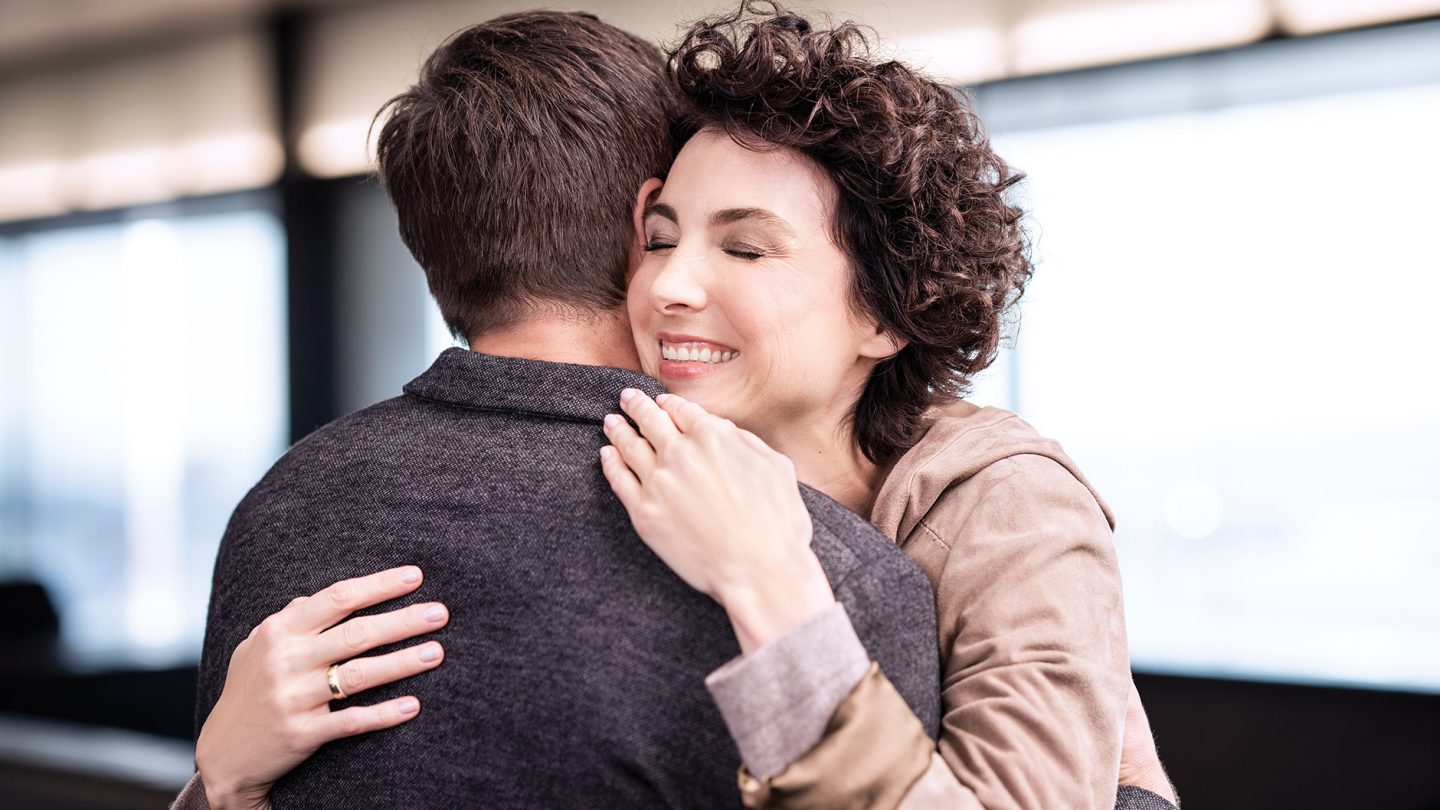 Arrival
In non-Schengen countries, you will need to go through immigration upon arrival. This applies to countries that are not part of the European Union (EU). These passport controls do not apply to countries that are part of the EU. If you have checked baggage, follow the signs to the baggage carousels. Since your baggage has to be brought from the aircraft to the baggage claim area, there is sometimes a short wait. Each flight number is assigned to a specific baggage carousel, which can be found on the information screens. Random customs checks are carried out in the Arrivals terminal, so you should find out about customs regulations and possible export bans before departure.
This might also interest you