Economy Class
Due to the current situation, we are trying to reduce direct contact between passengers and crew. This has an effect on the way we manage our on-board catering. In order to keep contact as low as possible, we are offering an adapted catering service – making it our priority to maintain a balance between safety and service.
Thank you for your understanding.
Arrive relaxed at your destination with our Economy Class. Our crew will serve you meals and drinks both on short and long-haul flights, and our entertainment programme will help you pass the time until landing.
Services on short and medium-haul flights
On Austrian Airlines flights, our crew will serve you drinks, snacks or a meal, depending on the flight time. On selected flights, our drinks service offers a wide range of Austrian wines, beer, coffee, tea and spirits. You can download newspapers and magazines before your trip from our eJournals platform. The Austrian magazine  is also available online. If you prefer to browse the net, you can also buy FlyNet internet access on flights with the Austrian Airbus fleet.

Services on long-haul flights
You will arrive even more relaxed at your destination on our long-haul routes. Further extras are available in addition to the services on short and medium-haul routes.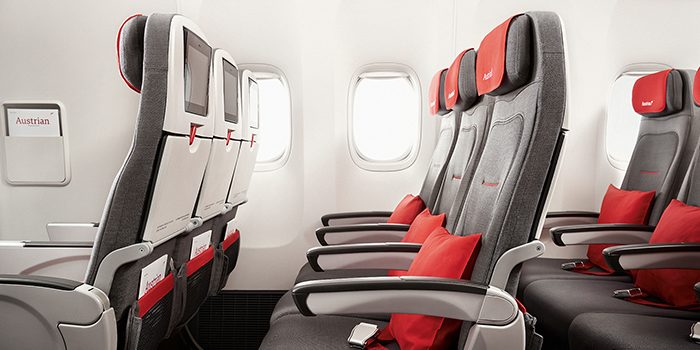 Enhanced seat comfort
Ergonomic seats with a unique relax function ensure more comfort on long-haul flights. Reserve your preferred seat at the time of booking or subsequently up to one year before departure.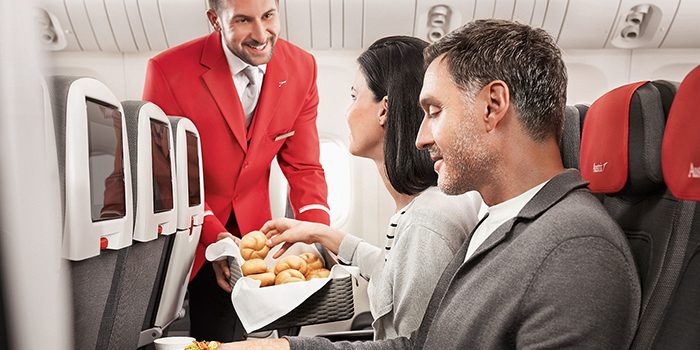 Enjoyable moments
Choose between two DO & CO menus during your flight. We will welcome you after take-off with fine snacks, depending on the departure time. And if your aircraft lands in the morning, we will fortify you in advance with breakfast or a snack. Our diverse drinks offer is available throughout your flight.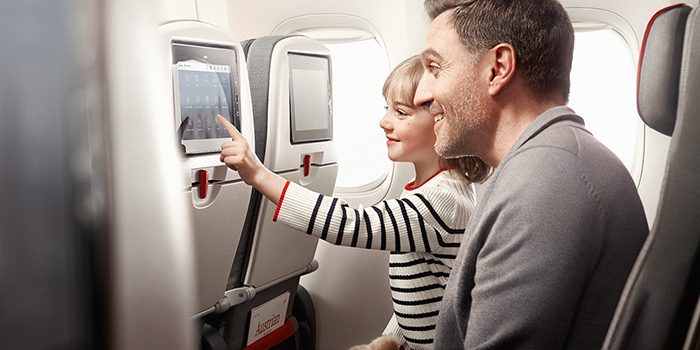 Best entertainment
Our extensive entertainment programme will also ensure plenty of a variety on long flights. In addition to up to 400 hours of films and TV, adults, children and young people can also while away their flight time with music, our eJournals and the Austrian magazine.
Do you have any further questions?
Book your Economy Class flight now
This might also interest you