Current information and flight disruptions
Before leaving for the airport, find out about current safety information and travel guidelines and get up-to-date flight information via text, email or in our Austrian App.
Coronavirus – current information
There are so many uncertainties about travelling in times of coronavirus and it raises many questions. Please inform yourself therefore about the entry regulations, flexible rebooking options and extensive hygiene measures.
We look forward to welcoming you back on board very soon!
Country bans, entry regulations and travel warnings
Some countries have issued a travel warning for Austria or individual federal states and cities.
We ask all passengers to inform themselves about the individual country regulations via the website of the Austrian Ministry for European and International Affairs before commencing their journey.
Please also inform yourself whether different regulations apply in your country of travel (for example for German federal states).
A negative PCR test and/or quarantine may be required depending on the destination country and the regulations. A form asking for your accommodation details will be handed out on board the flights concerned.
In addition, flexible booking options are available for all passengers travelling with Austrian Airlines.
The new curfew in Austria, which is initially in force from 3 to 12 November from 08:00 p.m. to 06:00 a.m., does not have any direct impact on Austrian Airlines' flight operations. Flights scheduled during this period can operate as usual. The arrival/departure from/to the airport during the period before 06:00 a.m. or after 08:00 p.m. is permissible according to the regulations on the back of the following exceptions:
Professional purposes and educational purposes
Exercising family rights and fulfilling family obligations 
Covering the necessary basic needs of daily life 
Participation in judicial or administrative proceedings or official acts

We recommend keeping your boarding pass as proof of travel.
However, we still ask all passengers to check their flight status at austrian.com before travelling to the airport.
In addition, flexible booking options are available for all passengers travelling with Austrian Airlines.
Please pay attention to the general entry and customs regulations as well as the Covid-19 test requirements that apply to passengers travelling to China (mainland). The conditions for Chinese citizens and foreign travellers may differ.
When entering China, the presentation of a negative Covid-19 test, an antibody test, as well as a Health Declaration Form performed and issued in Austria, is required for non-Chinese citizens. The documents will be checked before departure. If one of these confirmatory documents is missing, you will be unable to board the flight.
More current flight information
We keep you informed about the status of your flight
Austrian Airlines offers a free information service that keeps you informed in good time about changes to your flight. Regardless of which airport you fly from with Austrian Airlines, you will receive text or email updates about flight disruptions so that you can adjust your travel plans accordingly.
You can choose how we inform you about up-to-date flight changes:

At the time of booking your flight:
simply enter a current mobile phone number or email address during flight booking (no registration required)
About your profile:
Create an austrian.com profile and store your contact details there
In the Austrian App:
Download the Austrian App
| | | |
| --- | --- | --- |
| Event | Information channel | Time |
| Flight status | | Immediately |
| Gate change at Vienna Airport | | From two hours before departure |
| Delays of over 15 minutes | | Immediately |
| Cancellation | | Immediately |
1 A text is sent if there is no email address available.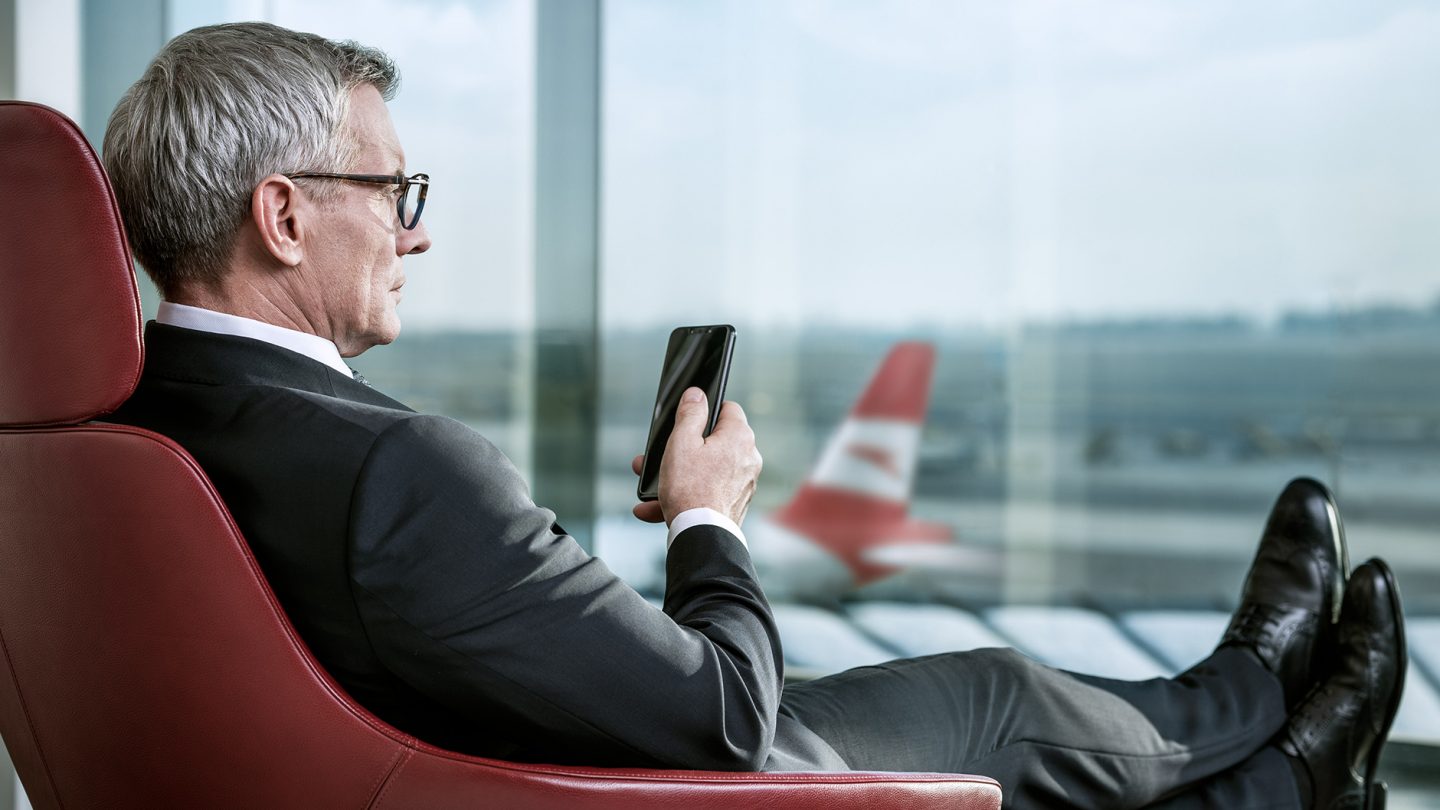 Simply check your flight status yourself
Request flight status via Chatbot
By the way: With our Chatbot Maria you can not only check your flight status, but also rebook it free of charge if your flight is affected by a cancellation or delay
Do you have any further questions?
This might also interest you